Technology
L.A. Unified to get $6.4 million in settlement over iPad software
The Los Angeles Unified School District has reached a tentative $6.4-million settlement over curriculum from education software giant Pearson that the school system said its teachers barely used.
The pact is the latest fallout from an aborted $1.3-billion plan to provide an iPad to every student, teacher and campus administrator in the nation's second-largest school district.
The Board of Education is expected to vote on the settlement in October. The bidding process that led to the original contract is the subject of an FBI investigation.
Under that contract, Apple agreed to provide iPads to L.A. Unified while Pearson provided curriculum on the devices as a subcontractor. As a result, the settlement was with Apple, even though the dispute concerned the Pearson product.
Under the agreement, Apple will pay the district $4.2 million. Another computer company, Lenovo, also had charged the district for Pearson curriculum. The district won't have to pay $2.2 million for laptops recently purchased, according to the settlement.
"That amount of money doesn't make up for the damage to the district's reputation or compensate for the amount of time lost by students and educators in this misbegotten project," said Scott Folsom, a member of the independent committee that oversees school modernization and construction bonds.
The deal avoids protracted, costly legal wrangling with Apple and Pearson.
L.A. Unified bought more than 40,000 iPads with the Pearson curriculum at a cost of $768 apiece. The district used bond funds to make the purchases.
Nearly all the money from the settlement will be used to buy computers through a competitive district grant program.
"There are many schools that have not received devices, but that nonetheless have a need for instructional technology and innovative ideas for how to use it," said Supt. Ramon C. Cortines in a memo this week to the Board of Education. "The $6.4 million in proceeds represents an exciting opportunity to invest in such schools and to promote collaboration among campuses."
The deal with Apple, reached in June 2013, was part of a bold initiative — and an exclusive deal with the company — to use school bonds to pay for industry-leading tablets. The deal with Lenovo came later, after the district decided to include devices from other manufacturers and to slow down a technology rollout that was beset with problems.
At the time of the pact with Apple, Pearson was supposed to provide all the math and English curriculum for the school system. The contract with Apple included a three-year license for the Pearson curriculum that added about $200 to the cost of each computer.
During the first year of the license, Pearson provided only sample units of curriculum, rather than a finished product. The contract allowed for the partial curriculum.
Teachers received limited training on the devices. The district later accused Pearson of providing an underwhelming product beset by technical glitches. Consultants concluded that few teachers even used the Pearson software.
Pearson has defended the quality of its work, noting that other school systems continue to use its online courses.
The district had threatened to sue over the Apple/Pearson contract. A district spokesman on Friday praised the work of all involved in the negotiations.
Representatives of Apple and Pearson could not be reached late Friday.
L.A. Unified, which has about 1,000 schools, has provided computers for every student at about 100 campuses. At others, students are getting by with fewer devices.
To win the technology grants, schools must submit proposals showing they are ready to use computers and they also must set aside some of their own funds to pay for a portion of their plan. The school's funds could pay for software or extra staffing, for example.
A proposal is more likely to win funding if it has the potential to yield academic gains. Schools that collaborate with others are eligible for more generous grants. The district wants to encourage elementary campuses to coordinate with middle and high schools to improve instruction.
Gregory L. McNair, a senior attorney with L.A. Unified, said one goal is to make sure schools are ready to use technology before they receive it.
Cortines first mentioned the broad outlines of the settlement at a recent public meeting of a technology task force, which was reported on by L.A. School Report.
Twitter: @howardblume
ALSO
California teen seen in video jumping in to stop bully attack
L.A. beaches remain closed after needles, tampons wash ashore
Woman seen screaming for help, scaling 8-foot wall at Saudi prince's L.A. compound.
Do you know the key to identifying a fake websiteversus a legitimate one? It's something we've discussed repeatedly before, and by now many people probably believe that one of the cornerstones of a secure website is HTTPS in the URL and a green lock icon in the address bar. While those are two great indicators that you're on a secure, legitimate website, unfortunately, as consumer savvy and awareness increase, so does the sophistication of cybercriminals. As such, there may be instances when you encounter phishing websites that utilize these markers of security as part of their ruse. Learn more about why HTTPS phishing sites are a growing phenomenon and how you can protect yourself.
Why are cybercriminals using HTTPS phishing sites?
Secure websites are important, and the past year has seen a significant emphasis on more sites using HTTPS, with browsers like Google Chrome and Mozilla Firefox alerting users when they navigate to a site that does not use HTTPS. New research from cybersecurity company PhishLabs shows that in the third quarter of 2017, its researchers observed that almost 25% of the phishing sites it saw were hosted on HTTPS domains, and many even use their own SSL certificates. Although there has been an overall push in the past year for all websites to adopt HTTPS, PhishLabs discovered that the rate of adoption among cybercriminals running phishing pages was actually much faster than the overall web. Just a year ago, the number of secured phishing sites was at 3%, and two years ago it was less than 1%. The most likely reason for this significant jump in HTTPS phishing sites is simple — adaption. As browsers have introduced features that outright warn people if a site is "not secure" and consumers have been picking up on the more obvious signs of a scam, the likelihood of a generic phishing site fooling people has decreased, so cybercriminals are keeping up with the Joneses and developing their scam pages to pass under the radar.
How can you protect yourself from these advanced phishing scams?
This development in phishing sophistication might leave many people feeling uneasy, which is understandable, but just because some phishing sites are using HTTPS now doesn't mean that you're going to fall for one. There are plenty of things to look for to ensure that you're browsing safely, and the most important lesson you can take away from this is that the presence of HTTPS in a URL or a declaration of safety from your browser doesn't automatically mean you're in the clear. You should always do your due diligence to check out other facets of a page before entering any sensitive information, like your credit card details or username and password. These include the rest of the URL itself — a blog post written by Brian Krebs on this topic illustrates this well and provides some great tips on how to parse URLs to ensure that you aren't getting yourself into a pickle if you click on a link. Always double-check URLs and trust your gut; if something seems off about a website, even if it declares itself secure, don't continue using it.
When it comes to phishing, the most important way you can protect yourself is to avoid taking any kind of sudden action. Many phishing communications involve some sort of urgency, imploring you to click the link and do something immediately. Regarding any communications you receive with suspicion and taking some time to plan your next move can make all the difference. If you've received an email purporting to be from your bank or Amazon.com, resist the temptation to click any links provided in the email. Instead, type the URL of the website into your browser and sign into your account that way. You can also use Google to search for the phone number of the company in question and phone them directly to confirm the legitimacy of any purported problems.
Bottom line, criminals are always going to adapt their efforts accordingly with any advancements made in security, especially when it comes to the online realm. Just think about how many advances have been made in password security recommendations and requirements, due in part to cybercriminals figuring out how to crack less-complicated passwords. Fortunately, cybersecurity experts are working tirelessly to stay in-step and provide the best protection and recommendations possible. Keep reading our technology blogto stay up-to-date on the latest security developments.
Radio Enhances Situational Awareness
 About the Author
Small tactical terminals designed with size, weight, power and cost constraints in mind.
While significant improvements in range, speed and lethality of kinetic weapons have been made in recent years, the increased ability to engage an adversary has far outpaced the ability to identify friend from foe. This competing dynamic has contributed to slower progress in the expansion of situational awareness and poses long-standing challenges associated with the fog of war. As a result of this lag, it is increasingly important to arm individual platforms with multiple sources of communications to boost both lethality and survivability.
Although designing and building innovative solutions could address this challenge, budget realities and the urgency of ongoing operations have placed more emphasis on improvements to existing platforms. One approach is to equip current air, ground and sea platforms with the ability to achieve the situational awareness Link 16 can provide. However, taking advantage of this predominantly line-of-sight waveform for tactical data links in existing systems involves internal trades in size, weight, power and cost (SWaP-C).
To address this challenge, ViaSat Incorporated and the Harris Corporation developed the Small Tactical Terminal (STT) KOR-24A. This two-channel radio is designed to meet the needs of users who have SWaP-C constraints but need simultaneous access to Link 16 and either wideband waveforms or legacy communications pathways, including very high frequency and ultrahigh frequency.
The STT KOR-24A enables users to obtain tactical information from a ground network and pass it to and from Link 16, creating seamless situational awareness and a common operational picture between air and ground forces. The radio small form also allows SWaP-constrained platforms with legacy VHF/UHF radios a path to Link 16. For example, helicopters, unmanned aerial vehicles (UAVs), ground vehicles, small boats and small aircraft now can access friendly and enemy air and ground situational data and provide secure and reliable target data to the network.
This flexibility recently helped the U.S. Army upgrade the latest version of its AH- 64E Apache helicopter. The STT KOR-24A enables the helicopter to switch waveforms and network connections on the fly via Link 16 on one channel and soldier radio waveform on the second channel, merge disparate networks, and deliver situational awareness information as a mission unfolds.
The increased situational awareness and command and control capabilities two communications channels provide can address specific mission requirements, including direct communications with ground networks, which decreases the likelihood of fratricide incidents.
The STT KOR-24A's ability to carry civilian voice and digital radio frequencies also enables organizations such as the U.S. National Guard to communicate with local organizations during disaster response and other homeland defense and security situations.
In addition to meeting the need for simultaneous voice and data communications, the terminal addresses the limited space on legacy platforms. New communications equipment must fit into the previous system's location, which can cause weight and power issues if it is heavier and more power-hungry than its predecessor. Because the STT KOR-24A is a single radio with two channels, the U.S. Defense Department can remove an existing radio and replace it with additional networking capability without extra power and weight costs.
While the STT was developed to meet the department's needs for a multichannel radio, it was not developed as part of a formal program. The radio is centered on a commercial model and best practices can be adapted to meet strict performance and environmental requirements, while ensuring a cost-effective development and support structure. Warfighter feedback allows for quick modifications to match the military services' needs. Terminals in the field can also be upgraded at a substantially faster rate than the normal acquisition process.
As new features are developed, the technical baseline of the radio is adaptable. Customer-driven enhancements include upgrades to support new beyond-line-of-sight waveforms as well as a variety of new Link 16 capabilities enabling broader operations on protected participation group nets, adding another layer of security.
With government cryptographic modernization efforts, security enhancements will have a programmable approach and will be certified and accomplished via software download as well.
More information about the STT KOR-24A is available online.
Sprint and T-Mobile combined: The implications of a merger
12 Oct 2017IHS Markit Technology Expert
The rumored and much-discussed merger between Sprint and T-Mobile would have myriad ramifications for both consumers and mobile carriers alike, creating a company with nearly 130 million subscriptions-a similar scale to that of market leaders AT&T and Verizon. Combined, Sprint and T-Mobile would have the scale and resources to provide stronger network competition to the more extensive networks of AT&T and Verizon. Consumers in both rural and urban areas should experience improved coverage and better mobile performance when the deal is finalized and the network operations are integrated. However, the deal is not as straightforward as it may sound.
While both carriers operate 4G LTE networks, Sprint and T-Mobile operate different 3G network technologies and own very different spectrum holdings. Combining the network assets and spectrum allotments of each network will likely prove a complex and time-consuming undertaking. That could potentially undercut the momentum that T-Mobile has managed to build since the failure of a merger with AT&T in 2011 which handed T-Mobile a breakup fee worth $4 billion, including $3 billion in cash, a spectrum access deal worth an additional $1 billion, and a seven-year roaming agreement. Since then, T-Mobile has more than doubled its subscriber base in a market that has grown by just 25%. Despite often drastic (and expensive) marketing moves, Sprint, acquired by Japanese operator Softbank in 2013 with an intent to merge with T-Mobile, has seen subscription growth stagnate alongside significant declines to revenues and losses in profitability.
Sprint and T-Mobile users in rural areas may benefit the most from the combined network through improved coverage and the resources to invest in the increasingly dense networks that will support 5G. Read on to see what RootMetrics, an IHS Markit company, believes this merger would mean for consumers.
Device support
With Sprint using CDMA for their 3G network and T-Mobile using the GSM/UMTS standard, Sprint and T-Mobile currently sell and support specific devices that work on their own networks, including iPhones in which chipset providers differ (Intel vs. Qualcomm, for example) depending on the network. Current Sprint devices will not have the same experience as a current T-Mobile device on the combined network, and vice versa. That may lead to increased churn as users find that service degrades on the less favored network (likely to be Sprint's CDMA) as the networks are integrated.
In order for users to take full advantage of the merged network's services, once the merger is complete and a network integration plan is clear, OEMs such as Samsung, LG, Apple, and others must begin producing devices that support the features and frequencies of the combined Sprint and T-Mobile network. It's important to note that many current Sprint and T-Mobile devices will still be able to take advantage of certain features of the combined network, and users will not necessarily need a new device.
Coverage
Both carriers have strong coverage in urban areas and metropolitan markets across the US. Indeed, neither Sprint nor T-Mobile exhibited any significant domestic roaming during RootMetrics testing across the 125 most populated metro areas in the US in the first half of 2017.
The current Sprint and T-Mobile networks both utilize low-band spectrum, which provide better signal penetration for challenging in-building locations, as well as strong coverage over large distances. T-Mobile utilizes 700 MHz spectrum and is currently deploying its 600 MHz spectrum widely, while Sprint uses its 850 MHz band spectrum.
In terms of providing coverage outside of metropolitan markets, neither carriers' coverage encompasses as wide an area as that of AT&T or Verizon. RootMetrics testing across each of the 50 states (outside of metro areas) observed that Sprint and T-Mobile often roamed on their competitors' networks domestically. During RootMetrics state testing, Sprint roamed on competitor networks approximately 27% of the time, while T-Mobile's network roamed at a rate of 26%. The RootMetrics tests were performed with the most current consumer devices and represented the real-world consumer experience of using data, call, and text services.
Once the merger takes place, RootMetrics expects that the new combined network will directly compete with AT&T and Verizon for coverage in rural areas, rather than roaming on competitors' networks. However, in order for the combined network to compete effectively with AT&T and Verizon, many new towers will need to be deployed utilizing low-band frequencies (600/700/850). See the maps below for a look at how prevalent domestic roaming was for Sprint and T-Mobile during RootMetrics testing of the 50 states in the first half of 2017, as well as for a look at how roaming is affected when the networks of Sprint and T-Mobile are combined.
Sprint roaming map (RootMetrics State testing, H1 2017)
T-Mobile roaming map (RootMetrics State testing, H1 2017)
Sprint and T-Mobile combined roaming map (RootMetrics State testing, H1 2017)
As these roaming maps suggest, the combined Sprint and T-Mobile network will eliminate a large portion of domestic roaming, down to roughly 16%. In some areas, however, new towers will be required in order to provide coverage. It's also worth noting that T-Mobile is currently in the process of deploying its 600 MHz band spectrum widely across the US. The implications of this deployment suggest coverage would increase from 315 million to 321 million on a population basis, but the difference in coverage on an area basis would be more significant.
Spectrum assets
Sprint is well known for its rich spectrum assets, particularly on the 2.5 GHz TDD spectrum. Sprint is effectively using that spectrum for 3-carrier aggregation (3CA) on its LTE network, which allows high-peak downlink speeds to be achieved. Sprint has also been deploying its 2.5 GHz TDD spectrum for wireless back-haul purposes, which should give Sprint a distinct advantage over other carriers by eliminating reliance on wired networks and reducing backhaul costs. This spectrum, which would have been considered high band in previous generation deployments, is also well suited to future 5G deployments, which are set to be increasingly dense and used with higher spectrum bands. Furthermore, Sprint owns frequencies in the 850 MHz and 1900 MHz FDD bands, which help with both in-building and rural coverage.
T-Mobile, meanwhile, currently has spectrum holdings in the 600 MHz, 700 MHz, 1900 MHz, and AWS bands. And as noted above, T-Mobile is currently in the initial stages of deploying its 600 MHz spectrum across the US.
In short, the combined networks' spectrum assets will be both deep (large bandwidth) and varied (low and high bands) and should be able to effectively compete with AT&T's and Verizon's spectrum assets for use with 4G LTE, 5G, and IoT.
Network integration
Integrating networks has not always gone smoothly. For perspective, consider the Cingular Wireless and AT&T Wireless Services (AWS) merger that occurred in late 2004. That merger was much simpler than what we expect to see between Sprint and T-Mobile. Cingular and AT&T had similar network infrastructures; both were GSM-based, but integrating the two networks ultimately took several months to complete.
Sprint and T-Mobile each have much more complicated networks today compared with the seemingly "simple" Cingular and AT&T Wireless networks of 2004. As one example of the differences between Sprint and T-Mobile, consider that T-Mobile supports VoLTE while Sprint carries its voice traffic on 1xRTT. Moreover, T-Mobile is GSM-based and Sprint is CDMA-based, and the two carriers do not always share the same infrastructure vendors in the same regions of the country.
In urban and suburban areas, both carriers' coverage has significant overlap. The integration of coverage, including tower-by-tower decisions on which towers to keep or which to forfeit, will be a lengthy process that will likely span several months. Furthermore, both companies have different approaches to in-building, small cells, and IoT coverage that must be aligned.
On the other hand, earlier mergers have provided valuable lessons that Sprint and T-Mobile might draw upon. Learning from the example of Canadian and Korean operators as they prepared their networks for 4G, Sprint and T-Mobile might decide to shut down EV-DO, leave voice on RTT for a while if necessary, implement HSPA in the EV-DO band and then bridge it to LTE. This would simplify the integration process.
There is also the possibility that both networks are simply maintained separately. Both T-Mobile and Softbank have experience running disparate networks and could choose that same path after the merger. For instance, in Japan Softbank runs three brands with three different spectrum assets: Softbank Mobile uses W-CDMA and FD-LTE, WCP runs on TD-LTE, and Y!Mobile takes advantage of both TD-LTE and FD-LTE.
Expected outcome
RootMetrics expects that the new company and combined network would be able to compete more effectively with Verizon and AT&T on several fronts, including delivering better coverage in rural areas than either Sprint or T-Mobile alone, improved performance in both urban and rural environments, strong nationwide IoT coverage, and a more seamless deployment of 5G technology.
IHS Technology Group at IHS Markit.
China to account for 34% global RGB OLED capacity in 2022
The latest Display Supply Demand & Equipment Tracker from IHS Markit shows that global AMOLED capacity will rise from 11.9 million square meters (sq m) in 2017 to 50.1 million sq m in 2022, equivalent to 322% growth. The numbers include capacity for RGB OLED-utilized mainly for smartphones, mobile devices, virtual reality, and automotive; as well as capacity for WOLED, also known as White OLED–used primarily for TVs. Of the two segments, RGB OLED has the larger share of market, with capacity growing from 8.9 million sq m in 2017 to 31.9 million sq m in 2022.
Among players, Samsung Display reigns supreme with 87% of global RGB OLED capacity, followed by fellow South Korean rival LG Display, and Tianma and Visionox from China. The Chinese are aggressive in expanding RGB OLED capacity, especially on flexible display technology, and China's share of market is projected to soar rapidly in the next couple of years.
Developments on the Chinese front include the following:
BOE is ramping up B7, its first Gen 6 flexible RGB OLED fab, in late 2017, and is now constructing the new B11 fab; its B12 fab is also being planned. All three are Gen 6 flexible-technology RGB OLED fabs with a capacity ranging from 30,000 to 45,000 substrate sheets per month. Furthermore, After B12, BOE is considering whether to build another two Gen 6 flexible OLED fabs, but the support of local governments will be needed.
ChinaStar is currently running a Gen 6 LTPS/TFT LCD fab, while its next fab-the T4, a Gen 6 RGB OLED facility with low-temperature polysilicon (LTPS) backplane capability-is under construction. ChinaStar is also deliberating whether to build another Gen 6 OLED fab after T4.
Tianma has an LTPS + OLED fab in Wuhan, in central China, targeting flexible substrates. The fab is now under construction and will be ready for mass production in 2018.
EverDisplay is constructing a new Gen 6 Flexible OLED fab in Shanghai, in addition to its current Gen 4.5 rigid OLED fab also in the same city.
Visionox at present operates a Gen 5.5 LTPS+OLED fab for rigid glass substrates. And with an infusion of capital from China's Black Cow group along with financial support from the local government, Visionox is building a Gen 6 flexible OLED in Gu'an County north of Beijing. The company is also considering another new Gen 6 flexible OLED fab outside Gu'an.
For their target, all the new RGB OLED fabs under construction in China aim to produce flexible substrates at full screen size, utilizing the 18.x:9, 19.5:9 super-wide aspect ratio as well as a curved-edge smartphone display form factor for the next couple of years. In the long term, the fabs will undertake production of bendable and foldable screens for mobile devices.
The charts below show Chinese fabs in development for Gen 5.5 and above as well as for Gen 8.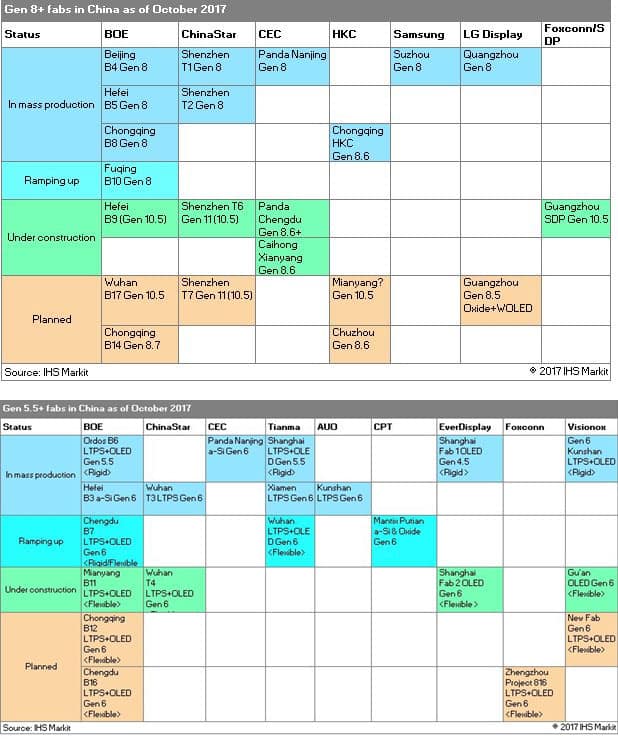 By 2022, Chinese makers will possess RGB OLED capacity of some 10.7 million square meters, equivalent to 34% share of the global total, Chinese capacity will mostly target the smartphone display market, reserving some volume for virtual reality and augmented reality applications as well as for the automotive space.
Some concerns remain
Despite the aggressive expansion of Chinese RGB OLED makers, concerns remain, especially because flexible OLED technology requires a long learning curve that impacts production variables such as yield rate, stability, and reliability. Another important issue is customer cooperation: Because of the long learning curve, smartphone makers and other similar customers will need patience to work with the just-emergent technology on issues like display panel design and mass production.
Chinese OLED makers also may face fierce onslaught from Samsung Display, a player of indisputable power and might with the commensurate capacity, technological acumen, and strength to block Chinese manufacturers in their attempt to grow.
Indeed, Samsung Display remains the dominant force in RGB OLED for smartphone displays. Its RGB OLED capacity will increase from 7.7 million sq m in 2017 to 16.6 million sq m in 2022, with capacity built on giant fabs like the A4 and A5 in South Korea.
Centralizing giant fabs in one site can be advantageous, offering the best economies of scale, optimum efficiency, and a streamlined supply chain. Massive OLED fabs can also serve as a bulwark of stable and sufficient supply for large purchase orders from key customers; in Samsung Display's case, these would be its internal customer of the same name, for the Samsung Galaxy line of smartphones; and from Apple, for its industry-leading iPhone. Last, giant fabs are well-placed to enjoy cost savings in operations given that these fabs often already boast smooth throughput-an advantage they can wield over their competitors.
The centralized, giant-fab approach of the Koreans contrasts with the smaller, distributed tactics employed by China's OLED makers. Because a giant fab at this point would provide little practical benefit, the Chinese are opting instead to build several dispersed and separate OLED fabs. Moreover, domestic players hoping to build infrastructure such as that required for RGB OLED will need the support of subsidies from local governments. As a result, it makes sense for the Chinese manufacturers to build around the country as they chase the available money from government coffers.
This type of investment, however, is not suitable for very-large-scale WOLED initiatives-simply because the risks for failure are too high. This is also one reason why there are numerous state-of-the-art Gen 10.5 fabs in China for TFT LCD, where both the technology and market are comparatively mature, but which isn't the case with Gen 8.5 WOLED.
The much smaller capacity of the Chinese, compared to that of Samsung Display, may also shape competition in the future. Samsung Display will use its colossal capacity to meet the needs of the South Korean maker's two critical customers-Samsung and Apple. Chinese makers, meanwhile, will be targeting the relatively smaller projects of smartphone makers in China, such as Huawei, Xiaomi, Vivo, Oppo, Meizu, Lenovo, and ZTE, along with many white-box makers.
With the smartphone war now expanding from brand allure to also include essential components and features such as the phone's display, the challenge facing China's makers will be most acute during a stagnant or oversupply market situation. Because Apple and Samsung on their own won't be able to digest all the excess RGB OLED panel output produced by Samsung Display in the event of market stasis, the South Korean titan will bring to bear all of its considerable heft and might to go after the local Chinese smartphone makers that currently make up the customer base of domestic OLED makers.
That is certain to put Chinese players in a bind, as they will inevitably have to compete with a powerful foreign-based player on the home front, on ground zero where they are supposedly most secure.
By 2022 and assuming that expansion is carried out by each key player accordingly, RGB OLED capacity for each player will stand at the levels shown below, based on IHS Markit forecasts in the Display Supply Demand & Equipment Tracker. The list includes only those companies deemed to have a greater than 30% possibility of investing in forthcoming RGB OLED capacity.
Samsung Display: 16.6 million sq m; 52% capacity share of world total
BOE: 4.8 million sq m; 15% capacity share
LG Display: 3.4 million sq m; 11% capacity share
Tianma: 1.9 million sq m; 6% capacity share
ChinaStar: 1.5 million sq m; 5% capacity share
Visionox: 1.4 million sq m; 4% capacity share.

The Industrial Internet of Things is here, but widespread adoption remains elusive

For many people, the term "Internet of Things" (IoT) is, by now, a familiar turn of phrase-a catchy expression that refers to the vast universe of electronic devices and other objects embedded with sensors and software, all connected via networks, enabling the collection, exchange, and analysis of data. A subset of IoT is the Industrial Internet of Things (IIoT), which utilizes the same concepts underpinning IoT but applies on a much bigger scale to industrial entities and processes.

One way to differentiate the two is through their area of focus. Consumer IoT segments are applicable to personal devices, such as smart home systems or wearable electronics. In comparison, the IIoT governs the realm of machines and sensors in industries, often those of critical nature where the failure of systems may result in larger disruptions; or conversely, whose efficient functioning can bestow widespread benefits on both the entity and customers of the particular IIoT process or solution. A breakdown in IIoT utilities, for instance, could presage widespread power blackouts; while a smooth IIoT operation could translate into a lifesaving mechanism, such as when it allows for the seamless monitoring by hospitals of a patient's vital signs during surgery.

To date, an increasing body of evidence supports the many advantages to be gained by firms when they adopt IIoT, leveraging connectivity sensors, software, and analytics. Often a predetermined goal propels a firm's impetus to seek an IIoT solution, and the specific outcome is at the core of a decision-although the innovation that IIoT brings is also central to gaining the internal buy-in of an IIoT solution. One key use case for IIoT is the need-applicable to any industry-to transfer knowledge from an aging workforce to a younger one, with minimal loss of expertise. For instance, the adoption of IIoT can help reduce the skills lost by specialists retiring. IIoT-enabled technologies such as VR can also accelerate the training of less experienced staff.

Another use case is that IIoT adoption can accelerate factory productivity rates, via reduced unplanned downtime on the one hand as well as easier and quicker product customization on the other. A third strong argument is that workplaces incorporating IIoT become much safer, benefiting from 24/7 insight into the well-being and safety of worker environments. In emerging markets, meanwhile, IIoT technologies lower the cost of entry in manufacturing by reducing the need for expensive processes like prototyping, at the same time improving quality and worker productivity standards.

Worldwide, shipments of industrial IoT devices across the categories shown in the charts below are forecast to rise to 252 million devices in 2021, up from 99 million in 2016, IHS Markit data show.

Pilots occur ahead of scale deployments

Manufacturing companies, like those in other sectors, are taking a cautious approach to IIoT adoption. Among the areas of concern are the potential for disruption that results in unexpected downtime, as well as the risk of cyberattacks and loss of data. Companies are, therefore, engaging in trials to help them assess the effectiveness of new technologies and prospects governing return on investment. The deployment of IIoT outside of core production processes, such as for monitoring assets with drones or in logistics, also helps them test the viability and impact of new technologies.

For meaningful change to occur through adoption of IIoT solutions, manufacturers need to implement IIoT in areas of output that directly impact the manufacturing process, such as in motors, machinery, and other capital equipment. By doing so, an IIoT solution can then be unleashed to its full potential-powering the continuous collection and processing of huge reams of data, in order to generate valuable and much-sought-after insights With the growing sophistication of IIoT technology through advances in processing power, software, and platforms, the challenge today is one of broader understanding and acceptance of IIoT within the industrial culture, so that manufacturers can be moved toward greater implementation. For traditional incumbents used to trusting in their systems, a particular fear is placing their valuable cache of data in the cloud, especially at a time when hacking and other cybersecurity threats have become rampant and pervasive.

The four phases of IIoT

There are four phases of the IIoT with innovation occurring at every phase, creating challenges and opportunities alike for manufacturers and suppliers. These four phases, as defined by IHS Markit, are Connect, Collect, Compute, and Create.

In the Connect phase of evolution, the foundational component for IoT, connectivity and processing capabilities are embedded into devices in IoT solutions. For this phase, continuing advances in 5G and private LTE networks will help address issues related to device connectivity-specifically those pertaining to security, capacity, and network coverage. However, the prevailing lack of common connectivity standards remains a concern. Over the next few years, new technologies-such as time-sensitive networking (TSN), private LTE, and 5G-bring the potential for greater bandwidth and lower latency.
In the next phase known as Collect, the objective is to gain access to the data of connected devices and move or store this data. With the inclusion of sensor data, the importance of network management and planning is critical for a successful IoT solution. For this phase, standards relating to machine-embedded sensors and I/O link sensor connectivity will improve the data collection and transfer process. At the same time, the role of IIoT gateways-acting as a bridge and the communication protocol translator-between the IIoT device and cloud will expand to support edge analytics/data processing for added intelligence.
In the third phase of Compute, the collected data is then analyzed and processed for the user to generate intelligent and informed decisions. Here it becomes critical to identify which data should be handled at the so-called "edge" of networks for local processing; and which data should be aggregated and stored in the cloud or if a hybrid solution is most appropriate. For this phase, security concerns will restrict the adoption of cloud-based services for storage, processing, and analyzing of large data volumes. Edge computing then emerges as a viable alternative to locally processed data, sharing only necessary information with the cloud.
In Create, the final phase, unique solutions provide value to stakeholders through access to transformational data, ultimately achieving very specific, predetermined outcomes, including decreased downtime or outages in operations, reduction in waste, higher cost savings, or new business models. In this phase, existing capabilities such as 3D printing will become more sophisticated, and artificial intelligence will be used more intensively.

Where IIoT stands with various industries

The adoption of IIoT varies across the industrial landscape, depending on the openness of each vertical in embracing IIoT technologies, as well as on individual industry knowledge, conservatism, access to capital, and integration challenges. Analysis is necessarily complex in the case of IIoT, especially because industrial coverage is broad and intersects with multiple vertical markets, resulting in an incredibly diverse set of end customers compared to, say, verticals in the IoT universe.

In the five sample verticals below, IHS Markit tracks the position of each vertical relative to its IIoT evolution phase.

The Manufacturing space, for instance, is now at the stage where the industry is using advanced sensors to expand asset monitoring, with edge computing supporting additional data processing capabilities undertaken separately in the cloud.
In Energy, the oil and gas industry is seeking to apply advanced analytics on available data to automate upstream processes while also bringing about operational efficiency through increased drilling accuracy, resource savings, and improved equipment maintenance.
In Maritime, the industry is moving toward satellite services to capture many potential applications, such as asset tracking, route optimization, and equipment monitoring.
In Agriculture, IIoT is being expanded in smaller agricultural units for them to partake in potentially bigger opportunities in the future, even as larger farms move a step further toward drones and robotic technology for large-scale field support.
In Chemicals, industrial applications for IIoT remain limited at present, due to the high risks involved in critical assets within the process. The Chemicals industry must also see how they can maximize revenues through IIoT, as revenue opportunities are presented through the billions of plastic IIoT devices projected to be shipped across all industries and providing demand to the specialty plastics sector.

Overall, the ramifications of IIoT adoption are much greater than comparable considerations for consumer-centric IoT applications. This is because the factors of production involved in IIoT are so much larger and cover critical spheres of human activity, where the failure of systems is not an option.

Moreover, each vertical has some form or component of manufacturing that is involved in the production of its goods, which means there is a direct relationship and impact that can be measured by a manufacturing entity's adoption of-or failure to adopt-IIoT, for better or worse. For most manufacturers, the roadmap to IIoT adoption will be one dictated by their own needs and customers.

Jenalea Howell is Research Director, Internet of Things, within the IHS Technology Group at IHS Markit

Also contributing to this piece are Sheryna Gurmeet Singh, Research Analyst; and Alex West, Principal Analyst, Smart Manufacturing-both likewise with the IHS Technology Group at IHS Markit

Posted 10 November 2017.

Oxide displays for mobile PCs to see hefty growth in year-end tally

Surging on a wave of demand, the market for oxide displays used in mobile PCs is headed for spectacular growth this year.

Shipments of oxide TFT-LCD panels sized 9 inches and larger intended for the mobile PC market, which includes the notebook PC and tablet PC segments, are forecast to reach 50.6 million units by the time 2017 finishes. Those numbers represent a resounding 194% growth from shipments of 17.2 million units last year, according to the IHS Markit Large Area Display Market Tracker.

The huge growth is due to a big bump in demand from manufacturers incorporating the displays into more notebooks and tablets, thanks to the various benefits bestowed by oxide technology.

All told, the mobile PC segment will account for 91% share of total shipments in the oxide display space, which also includes the segments for monitors and LCD TVs.

Oxide display technology provides several benefits, including high resolution, lower power consumption than traditional mechanisms like amorphous silicon (a-Si), and lower production costs than in low-temperature polysilicon (LTPS).

Moreover, oxide offers higher electron mobility at 20-30 cm²/Vs, compared to less than 10 cm²/Vs for a-Si. A higher electron mobility paves the way for the use of smaller transistors, in turn enabling reduced power consumption, improved performance in refresh rates, and lower noise in touch-screen sensitivity.

Last, the high resolution of oxide TFT LCD means the displays are well-equipped to handle high-resolution content. Increasingly, such content is being produced in greater quantity given the continuing technological advances in smartphones and TVs, with mobile PCs also gaining in the process.

All these benefits are important to the makers of mobile PCs, eager to seize on any advantage that can be obtained to stimulate a stagnant market.

Advantages and drawbacks of each technology

In comparing LTPS, a-Si, and oxide, one can discern the pros and cons in each technology.

For instance, LTPS can deliver higher-resolution images and consume less power than other solutions. However, its drawbacks include high production costs and low productivity; it is also less efficient in producing large-sized panels. For their part, oxide TFT LCD panels are inferior in resolution and power consumption to LTPS displays, but they are superior to a-Si TFT LCD panels. Oxide is also suitable for large-sized panel production, and the production cost of oxide displays is lower than that of LTPS counterparts.

Because competition is so intense, cost is an important consideration for PC brands. While LTPS is a perfect technology for high resolution, low-power consuming displays, the process is too complicated and the production costs too high.

Important market drivers

Several factors account for the strong demand in oxide mobile panels, including the following:

Apple and Microsoft both use oxide TFT LCD displays for their tablet devices, and their example has encouraged other brands to do the same. Apple devices include the 9.7-inch iPad with a resolution of 2048 × 1536 pixels per inch (ppi); the 10.5-inch iPad Pro (2224 × 1668 ppi); and the 12.9-inch iPad Pro (2732 × 2048 ppi). Microsoft devices include the 12.3-inch Surface Pro (2736 × 1824 ppi).
Apple has also been using more oxide panels for its MacBook series, following the footprint of the iPad Pro.
Producing an oxide TFT LCD requires a surplus photomask, but not as many as that needed to produce an LTPS display. This helps panel makers enhance their yield rate and production stability when it comes to oxide. To this end, panel makers such as LG Display, Sharp, and CEC Panda have been increasing their shipments of oxide panels.
In the mobile PC segment, a rising trend is the 2-in-1, in which a laptop and a slate-type tablet converge to form a multipurpose device; the form factor is a foldable or switchable keyboard with a PC. Here facilitating dual usage- the notebook laptop for efficiency computing, and the tablet PC for casual computing-requires a high-resolution display with a low frequency in order to be switchable. System stability is, therefore, important. Moreover, the required ppi spec for a 2-in-1 PCs require a resolution range of from 200 to 280 ppi, for which oxide is especially good. Examples are the 10.5-inch with 2224 × 1668 ppi; the 12.3-inch with 2736 × 1824 ppi; and the 12.9-inch with 2732 × 2048 ppi.
For some notebooks and laptops in which a combination of high resolution and lower power consumption is critical, oxide has become the chosen technology. Examples here are the 13.3-inch with 2560 × 1600 ppi; and the 15.4-inch with 2880 × 1800 ppi.
Some panel makers, such as CEC Panda, are also driving the oxide TFT LCD market by shipping more oxide PC panels on their own initiative. Examples here include the 13.3″-inch with 1920 × 1080 ppi; and the 15.6-inch with 1920 × 1080 ppi.

The following panels are currently driving oxide panel shipments:

9.7-inch, 2048 × 1536 ppi (iPad Pro)
10.5-inch, 2224 × 1668 ppi (iPad Pro)
11.6-inch, 1920 × 1080 ppi (Lenovo ThinkPad Helix Ultrabook)
12.3-inch, 2736 × 1824 ppi (Microsoft Surface Pro)
12.9-inch, 2732 × 2048 ppi (iPad Pro)
13.3-inch, 1920 × 1080 ppi (Acer V3 and Dell Chromebook)
13.3-inch, 2560 × 1600 ppi (Apple MacBook Pro)
15.4-inch, 2880 × 1800 ppi (Apple MacBook Pro)
15.6-inch, 1920 × 1080 ppi (Lenovo ThinkPad E570)
15.6-inch, 3840 × 2160 ppi (4K2K) (Dell, Asus, Lenovo, Toshiba)

LG Display and Sharp are expanding their oxide mobile PC panel shipments the most aggressively. For its part, CEC Panda will increase shipments from 0.6 million units in 2016 to 4.2 million in 2017.

David Hsieh is Research & Analysis Director, Displays, within the IHS Technology Group at IHS Markit
Posted 6 November 2017.

Interventional X-ray systems to see growth in demand worldwide

The increased prevalence of ailments such as cardiovascular disease and stroke is fuelling demand worldwide for interventional X-ray systems, a medical specialty providing image-guided minimally invasive diagnosis and treatment in order to lessen patient risk.

Caused by an ageing population and behavioural risk factors, cardiovascular disease is the leading cause of death, according to the American Heart Association, accounting for more than 17.3 million deaths in 2013. That number is expected to rise to more than 23.6 million by 2030.

The second leading global cause of death behind heart disease in 2013 was stroke, also a cardiovascular disorder, accounting for 11.8 percent of all deaths worldwide.

To this end, demand will grow for interventional X-ray systems, IHS Markit believes, especially as the systems are harnessed in support of various interventional cardiology procedures, such as transcatheter aortic valve implantation (TAVI), transcatheter aortic valve replacement (TAVR), percutaneous coronary intervention (PCI), and aortic abdominal aneurism (AAA).

Overall, interventional cardiology procedures are being performed more often today because of increased reimbursement by health providers, along with a greater awareness among both medical practitioners and patients of the clinical benefits to be derived. Interventional procedures are also now easier for physicians to perform, helping to reducing patient risk.

In the case of strokes, with the number of cases also growing worldwide, the choice of mechanical thrombectomy as a less aggressive mode of treatment will benefit the interventional neurology market. Here demand is projected to increase over the next five years, with angiography systems preferred, to visualize and guide thrombectomy. These systems need to provide not only uncompromising image quality while having minimal interference with the interventional procedures, but also precise and flexible positioning control for interventional X-ray systems.

In the United Kingdom, more stroke patients will be able to access mechanical thrombectomy as plans call for the treatment to be rolled out to 8,000 stroke patients a year-facilitated by the huge expansion in the number of hospitals offering this procedure, compared to the few that offer it today. As a result, thousands of stroke patients will be saved from lifelong disability.

With the rise in demand for mechanical thrombectomy comes a need to further drive innovation in comprehensive imaging capabilities. And as developments in the field continue, even more complex procedures can be performed. In turn, vendors can refine their devices accordingly, enabling greater ease and safety for better patient outcomes.

New interventional procedures also have a role

Several novel interventional procedures can also be performed as an alternative to drug treatments historically administered as part of the patient care pathway.

For instance, atrial fibrillation-one of the most important risk factors of stroke caused by blood clots that form in the left atrial appendage-affects 33.5 million people globally. Untreated, it can cause 15% of the total number of strokes. While the conventional treatment and prescription for this condition is blood thinners, not all patients can be treated successfully through this method. But because of improved interventional cardiology, it is now possible to perform a minimally invasive interventional procedure known as left atrial appendage closure (LAAC), which seals off a small sac in the heart where blood clots have a tendency to form. Clinical demand for LAAC procedures is likely to take root first in North America, thanks to ongoing innovations in the imaging capabilities of interventional cardiology X-ray systems.

Overall, new technological developments in interventional X-ray systems are allowing more complex procedures to be performed. Interventional suites should, therefore, include tailored features that match the therapeutic requirements of the interventional imaging technique and the skills of the interventional team.

And as patient cases grow in complexity and become more challenging, the need will arise for enhanced visualisation and image quality from interventional X-ray equipment vendors, ensuring that cases are handled safely and efficiently.

For more information on this subject, see our Interventional X-ray equipment 2017 report as part of the X-ray Intelligence service.

Bhvita Jani is an Analyst, Healthcare Technology, within the IHS Technology Group at IHS Markit
Posted 9 October 2017
source:https://ihsmarkit.com/research-analysis/interventional-x-ray-systems-to-see-growth-in-demand-worldwide.html